The drivers log at the touch of your fingers

Drivers is the odometer, gas, service and expenses log for all your vehicles - all on the iPhone or iPod touch. Drivers logs all changes to your trips. When you export your Data to PDF you get all Trips as well as all changes and deletions you made.
Drivers Logs made simple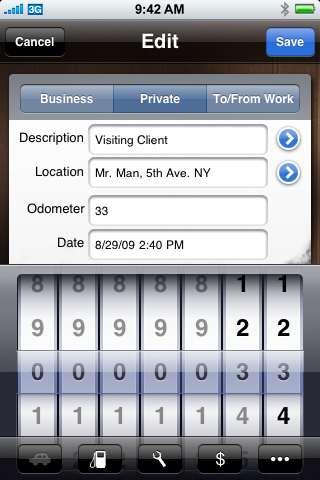 If you need to keep a drivers log, Drivers is the perfect App for you. It only takes 4 Taps to create a new trip, while the flexible waypoint allows you to record any number of stop or detours you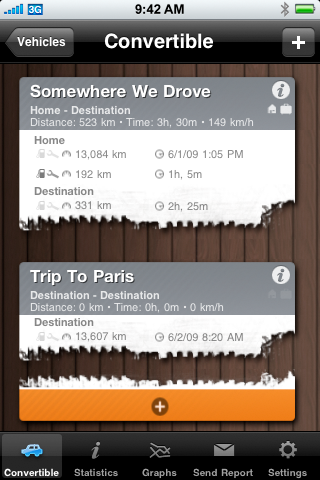 had to take during your trip. A spotless log wherever you go.
Evaluate the simplicity of Drivers (before you buy) through the detailed manual (created for a pre 2.0 Version of Drivers).
Add Trips, but fast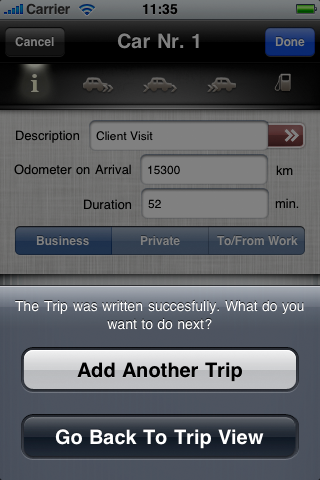 Drivers 2.1 makes adding new trips as simple and fast as it get's. When you enable QuickAdd in the settings, Drivers will start as fast as possible presenting the OneClick-Screen.
When you also use the new "Auto Location" feature, you just need to enter the Description and Type of the Trip, as well as the Odometer on arival and the passed tim in minutes. No way you can add a complete trip any faster.
Keeping track of changes
Drivers isn't just a database of all the trips you record, it also keeps track of core changes (odometer, date, description, location as well as trip-type) and deletions you perform on your vehicle. In addition, it records the time when those changes were made.
When you export to PDF, all recorded changes are included in the resulting document. When using the built in date filter, you can generate reports for monthly, weekly or any timespans you'd like.
Sophisticated Export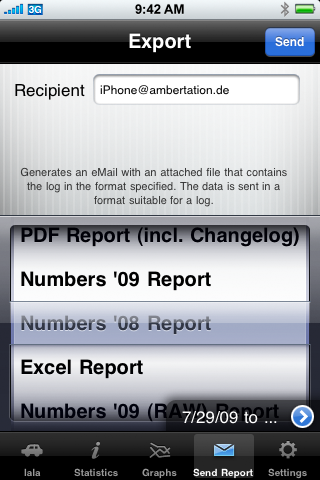 Recording data on a mobile device is great, especially for a drivers log. But you most people ultimately need that data on a Desktop Computer. With Drivers built-in e.mail export module, you can transfer your data to any Mac or PC.
Drivers supports multiple export formats, ranging form Numbers and Excel over a ready to print PDF document to the export of the raw data. Exports fitting the need of every users.
Consumption and Costs under Control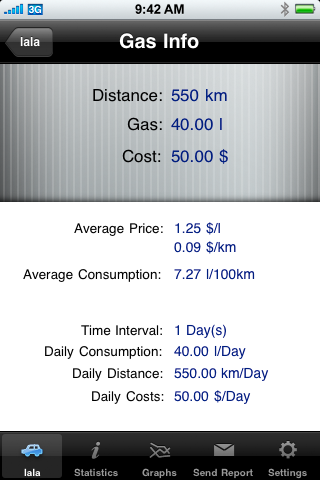 If you record all gas stops for your car in Drivers, you'll have access to your gas cost, the average consumption and other data for that car (Drivers assumes that you always completely fill up your car). Perfect for finding the most efficient variant for routes you frequently drive.
Never miss an inspection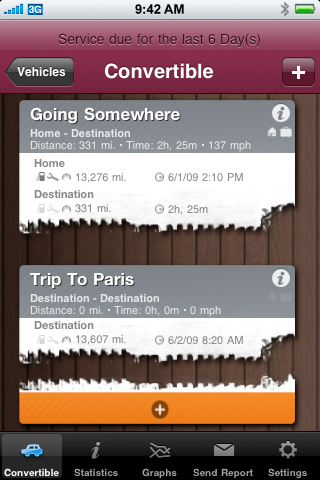 Drivers is more than a simple replacement for a paper drivers log. When you keep track of all your periodic services and inspections with drivers, you will get a warning wehenever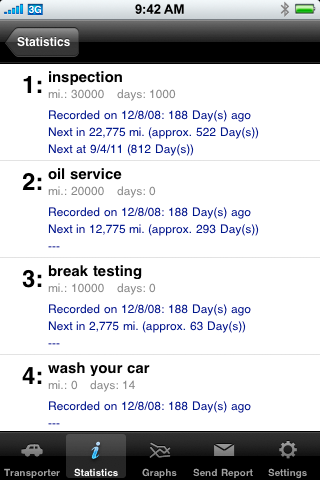 an inspection is due.
An intelligent algorithm warns you two weeks before the due date directly in the trip list. No matter if the time- or distance interval for that service is up.
Broad variety of Statistics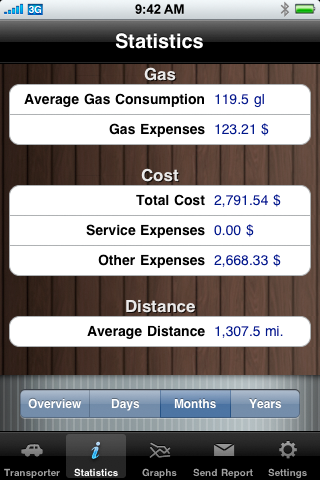 Drivers offers you a wealth of different statistics for all managed cars. You can get weekly, monthly an yearly averages for most of the recorded statistical data (ie. average expenses per month).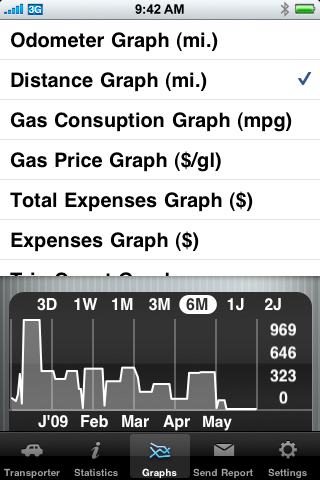 as well as a view for the lifetime totals of each car.
Everything directly on your iPhone or iPod touch in real time.
Location Templates revides
Beginning with Drivers 2.1 Locationtemplates are as simple to use and maintain as possible. You can of course manually enter new locations, but you may also import all adresses from the AdressBook on your device. It get's even better. You can add GPS-Coordinates to every stored location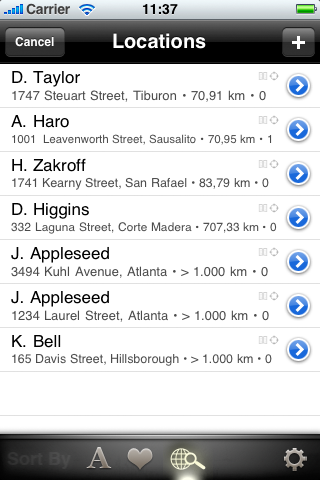 (either manually on a map or automatically by the address you entered).
Using this additional information you can sort your locations by the distance to your current position. Or you sort by name or even by the usage counter.
Vehicle-Backups
The new Backup-Export allows you to create Backups of your vehicle. In order to restore a Backup you need acces to a WebServer, as Drivers needs http(s) access to the backup file in order to download an use it.
Like everything else in Drivers, the backup is digitally signed tp prevent tampering with the data.
DISCLAIMER
THIS SOFTWARE IS PROVIDED BY THE COPYRIGHT HOLDERS AND CONTRIBUTORS "AS IS" AND ANY EXPRESS OR IMPLIED WARRANTIES, INCLUDING, BUT NOT LIMITED TO, THE IMPLIED WARRANTIES OF MERCHANTABILITY AND FITNESS FOR A PARTICULAR PURPOSE ARE DISCLAIMED. IN NO EVENT SHALL THE COPYRIGHT OWNER OR CONTRIBUTORS BE LIABLE FOR ANY DIRECT, INDIRECT, INCIDENTAL, SPECIAL, EXEMPLARY, OR CONSEQUENTIAL DAMAGES (INCLUDING, BUT NOT LIMITED TO, PROCUREMENT OF SUBSTITUTE GOODS OR SERVICES; LOSS OF USE, DATA, OR PROFITS; OR BUSINESS INTERRUPTION) HOWEVER CAUSED AND ON ANY THEORY OF LIABILITY, WHETHER IN CONTRACT, STRICT LIABILITY, OR TORT (INCLUDING NEGLIGENCE OR OTHERWISE) ARISING IN ANY WAY OUT OF THE USE OF THIS SOFTWARE, EVEN IF ADVISED OF THE POSSIBILITY OF SUCH DAMAGE.
Apple, the Apple logo, iPod, iPad, and iTunes are trademarks of Apple Inc., registered in the U.S. and other countries.
iPhone is a trademark of Apple Inc.