Perfect exposure wherever your phone is

With LightMeter you can turn your iPhone 3G-S into a simple exposure meter. LightMeter makes use of the new auto focus camera built into the iPhone 3G-S to determine the exposure of any scene you capture. Simply start LightMeter, take a photo and read the exposure for that scene from the exposure dial. It really is as easy as that.
How does it work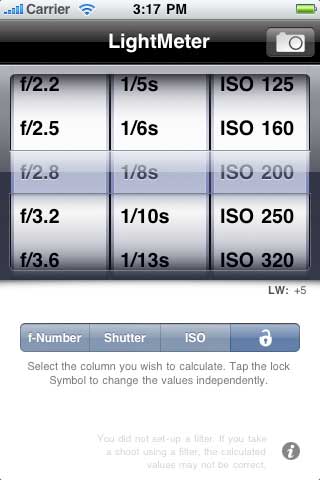 After you took a picture of the scene using LightMeter, you will get back to the "Exposure Dial"-View you know from PhotoBuddy. The dial will be preset with the measured exposure. Underneath the dial you'll see exposure value for your photo. Select any value ou would like to keep fixed on the selector underneath the dial and change the other settings to your liking. The value (iso, shutter or f-stop) you just selected will be recalculated to preserve the exposure you just measured.
What are the Limits?
LightMeter will measure correct for settings between +3EV and +16EV. This is due to the capabilities of the built in camera. Other than that, there are no limits.
Measure a Scene
LightMeter uses the complete image captured by the iPhone camera to determine the exposure. If you want to take a portrait for example, you should take a close up of the eyes of your model and nothing else. Make sure no lights or dark spots are visible in the background. That way LightMeter does not get confused and calculate the exposure for the face.
Using filters on your camera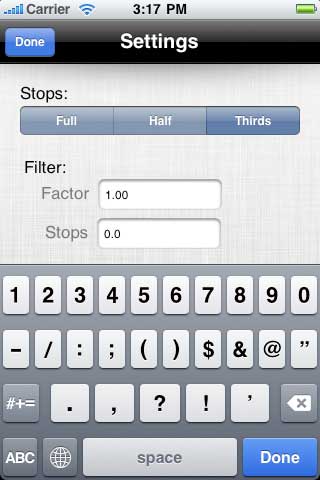 If you attach a filter to your camera, you probably want to receive measurements that take the darkening of that filter into account.
Before you measure your scene with LightMeter, you should open the info screen and set up the correct filter values. Whenever you measure a scene, those filter settings are applied to all measured values.
DISCLAIMER
THIS SOFTWARE IS PROVIDED BY THE COPYRIGHT HOLDERS AND CONTRIBUTORS "AS IS" AND ANY EXPRESS OR IMPLIED WARRANTIES, INCLUDING, BUT NOT LIMITED TO, THE IMPLIED WARRANTIES OF MERCHANTABILITY AND FITNESS FOR A PARTICULAR PURPOSE ARE DISCLAIMED. IN NO EVENT SHALL THE COPYRIGHT OWNER OR CONTRIBUTORS BE LIABLE FOR ANY DIRECT, INDIRECT, INCIDENTAL, SPECIAL, EXEMPLARY, OR CONSEQUENTIAL DAMAGES (INCLUDING, BUT NOT LIMITED TO, PROCUREMENT OF SUBSTITUTE GOODS OR SERVICES; LOSS OF USE, DATA, OR PROFITS; OR BUSINESS INTERRUPTION) HOWEVER CAUSED AND ON ANY THEORY OF LIABILITY, WHETHER IN CONTRACT, STRICT LIABILITY, OR TORT (INCLUDING NEGLIGENCE OR OTHERWISE) ARISING IN ANY WAY OUT OF THE USE OF THIS SOFTWARE, EVEN IF ADVISED OF THE POSSIBILITY OF SUCH DAMAGE.
Apple, the Apple logo, iPod, iPad, and iTunes are trademarks of Apple Inc., registered in the U.S. and other countries.
iPhone is a trademark of Apple Inc.